SoftComp e-Newsletter No. 4 - March 2022
Dear Members and Friends of SoftComp,
The Corona pandemic, global warming, species extinction, overpopulation - humanity is currently facing serious crises, even leaving aside the terrible war in Ukraine. Science clearly has a very important and challenging role to play in finding solutions to so many of these issues. However, the current pandemic has made it plain that scientists are increasingly not only confronted with global scientific challenges but also come under heavy fire from critics and deniers, often with highly unscientific arguments.


How should science act in such an environment? Its most important assets are credibility and trust, especially in the face of uncertainty and confusion. Therefore, scientists need to be aware of what they know and what they don't know, and to communicate this clearly. False promises must be avoided at all costs. And last but not least, the scientific approach to solutions must be communicated to the general public again and again.


Coming back to the Corona pandemic: it has demonstrated that enormous crises require an interdisciplinary effort. Soft matter science has contributed in several ways, by providing both practical solutions – such as large-scale molecular dynamics simulations of proteins – and ideas for the future – such as the development of artificial cells as protein-analysis platforms and as potential virus scavengers.


Angela Wenzik & Gerhard Gompper
for the SoftComp Coordination, Management and Communication Team
Scientific News
How Active Biopolymer Networks Shape the Cell Membrane
Experiments on active deformations of a cell membrane by an actin assembly may inspire new materials and approaches. Cécile Sykes from the Laboratoire de Physique de l'Ecole Normale Supérieure, France, reports on results raising the hypothesis as to whether endocytosis could be controlled for medical purposes.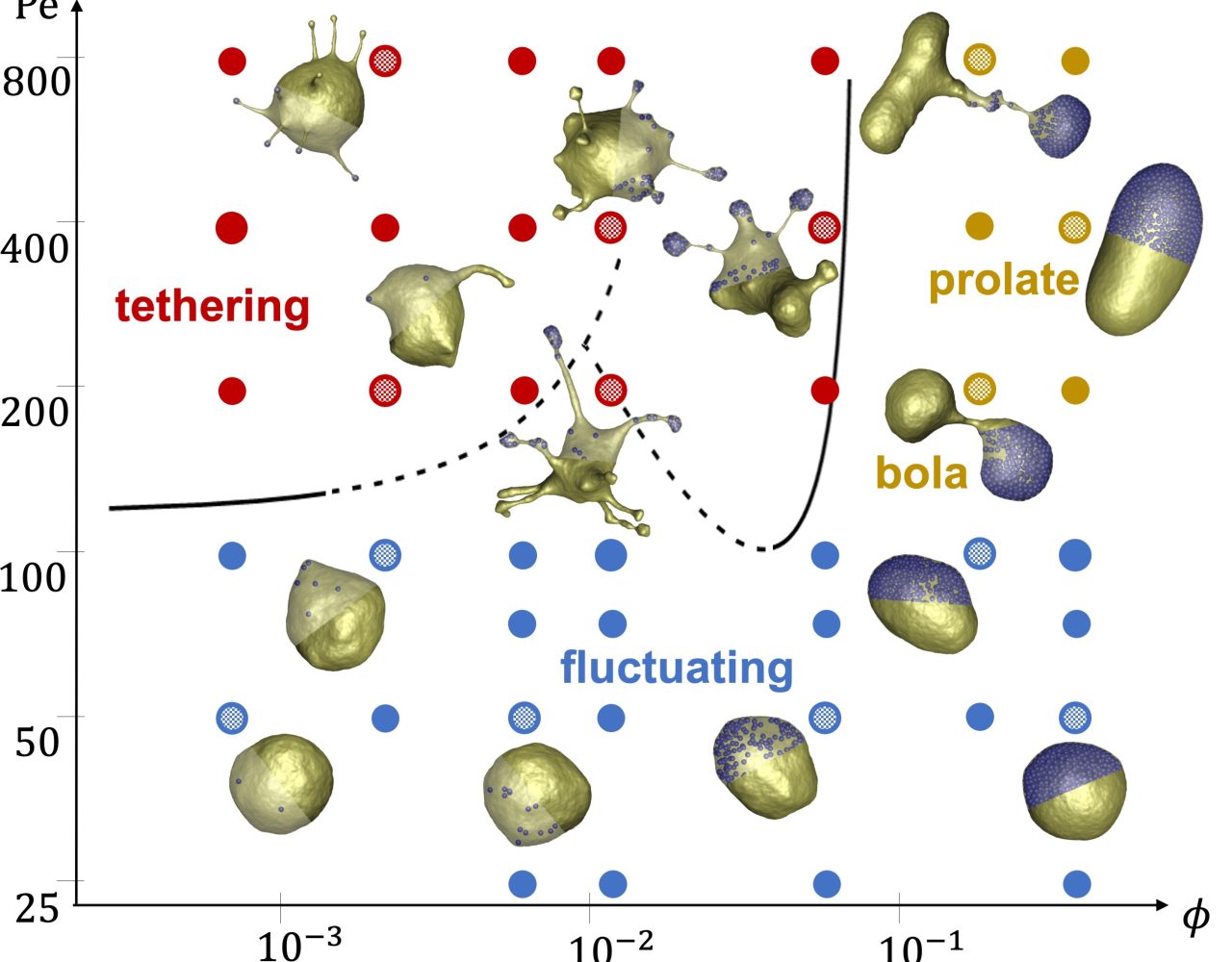 From Soft Active Systems to Synthetic Cells
Scientists from the ETH Zurich, Switzerland, and Forschungszentrum Jülich, Germany, highlight their recent collaborative study on a novel active system of self-propelled particles (SPPs) enclosed in a lipid vesicle, which exhibits dramatic shape changes resembling those of biological cells.


Towards the Minimalistic Design of Life-like Abiotic Systems
Scientists from the Johannes Gutenberg University Mainz, Germany, have unravelled polymer-like phase-separation behaviour in multiblock single-stranded DNA, providing an opportunity to fabricate all-DNA protocells with several encoded sequences for post-functionalization with spatio-temporal control.


Creep Dynamics and Failure of a Biopolymer Gel
At CNRS Montpellier, France, researchers have studied the microscopic mechanisms leading to failure in biopolymer gels and their interplay with the gel's distinctive features by using a novel setup coupling dynamic light scattering to rheology.


Sampling Protein Conformational Space
Current experimental techniques provide a good picture of the most stable protein conformations, but little on the transition path or intermediate states. Scientists at Durham University, UK, present an approach for the prediction of intermediate protein conformations.


Molecular Exchange of Telechelic Polymer Micelles
Neutron scientists from the Forschungszentrum Jülich, Germany, have discovered a collision-induced exchange mechanism in mixtures of telechelic polymers that is also relevant to other self-assembled structures, in which multivalency plays a role, e.g. in supramolecular networks, lipid membranes, multidomain proteins, lipoproteins, and conventional hydrogels.


Personalia & Miscellaneous News
The SoftComp consortium has a new partner: the Soft Matter Experimental & Theoretical Groups at Universitat Rovira I Virgili, based at Campus Sescelades, Tarragona, Spain. Welcome to SoftComp!


Research with neutrons provides unique insights into materials and phenomena that cannot be gained using other methods. In autumn 2021, a ground-breaking project began, aiming to ensure the most effective use of the research potential of neutron methods. The goal of the Global Neutron Scientists (GNeuS) project is to train a new generation of highly skilled neutron scientists. The EU is funding the project over its five-year duration with € 3.3 million. The three leading partners, one of them being Forschungszentrum Jülich, are investing a further € 5 million. Within the framework of the project, 45 postdocs will for the first time be able to take part in a 24-month structured, interdisciplinary and cross-sectoral international training programme.


Imperial College London, Durham University, and Procter & Gamble Corp. have received £5.6m in funding from UK's Engineering and Physical Sciences Research Council (EPSRC) Prosperity Partnerships fund for the project ANTENNA - Advanced tools for predictive cleaning in a world of resource scarcity. The project, which will run for four-and-a-half years, aims to develop new tools that could transform the design of cleaning products to help make them more sustainable, helping the UK achieve Net Zero by 2050 and meet the complex global challenges of water scarcity, energy consumption and decarbonisation.


Prof. Dr. Patricia M. Bassereau (Institut Curie) is the 2022 recipient of the Avanti Award in Lipids. The annual award has been established by Avanti Polar Lipids, Inc., and is presented by the US-based Biophysical Society to an investigator for outstanding contributions to our understanding of lipid biophysics. Bassereau is being recognized for "her stellar work on membrane lipid organization and mechanics". Her research career has focused on biological membranes and their role in numerous cellular processes including protein trafficking between organelles and at the plasma membrane (endo/exocytosis), and the transport of ions and proteins across membranes. Her in vitro assays provided the first dynamic models on how proteins shape membranes and the role of membrane tension in several biological functions.


Dr. Claudia Contini (Imperial College London) was awarded a £15,000 L'Oréal and UNESCO UK Women in Science Engineering Fellowship in 2021 to support a 12-month period of research. The programme is designed to provide flexible and practical financial support, alongside tools and support, for early-career women scientists to pursue their research. Her research aims to set inanimate matter in motion at the nano and microscale, with a focus on the design of synthetic life-like systems that mimic biological properties and functions for biotechnological and biomedical applications, such as drug delivery in the body.


Dr. Yuval Elani (Imperial College London) was awarded the 2021 Felix Franks Biotechnology Medal by the British Royal Society of Chemistry Biotechnology Group in recognition of his "meritorious contributions to Chemical Biotechnology". The group described him as "a pioneer in the development and advancement of 'bottom-up' synthetic biology". Yuval's approach has been to develop a series of technologies that allow synthetic cells to be constructed from scratch using biomolecular building blocks, an approach that has led to powerful partnerships with industry - partnerships which are exploiting artificial cells in smart therapeutic devices, for vaccine delivery, and in agritech compound development pipelines.


Prof. Dr. Luis Liz-Marzán (University of Vigo, the CIC biomaGUNE, the Basque Foundation for Science Ikerbasque, and the Centro de Investigación Biomédica en Red Bioingeniería, Biomateriales y Nanomedicina (CIBER-BBN)) has been awarded the Franco-Spanish Miguel Catalán-Paul Sabatier Prize 2020 from the French Chemical Society for his important work in colloid chemistry applied to nanoplasmonics, as well as for his collaboration with the French chemical community. This prize, set up in conjunction with the Spanish Royal Society of Chemistry, is awarded in Spain to a French chemist every odd-numbered year. Luis has also been awarded the 2021 Biomedical Research Award in the Preclinical Research category for his research in the field of nanoscience and nanomedicine by the Lilly Foundation. Furthermore, Luis has been elected as a full member of the Spanish Royal Academy of Exact, Physical and Natural Sciences of Spain in 2021.


Prof. Dr. Geoff Maitland (Imperial College London) has received the Royal Society of Chemistry (RSC) 2021 Award for Exceptional Service. The award is one of the RSC 2021 Volunteer Recognition Prizes awarded to those who have given their time and made a significant impact on the British organisation. Geoff received his award in recognition of his "outstanding service to the Royal Society of Chemistry through our publishing activities and governance groups". In 2019, he was appointed a Commander of the Order of the British Empire (CBE) for "services to chemical engineering following a distinguished career where he drove connections between industry and academia".


Two prestigious awards from the European Colloid & Interface Society (ECIS) went to members of the SoftComp network in 2020: Prof. Dr. Wilson Poon (University of Edinburgh) was awarded the "Colloid & Interface Science Award, sponsored by Solvay" for his works in the area of colloid and interface science. This prize is granted annually to a European scientist for original scientific work of outstanding quality, described in one or several publications, patents or other documents made public in the previous five years. Prof. Dr. Peter Schurtenberger (Lund University) has received the Overbeek Gold Medal which is awarded annually to acknowledge excellent careers in, and inspiring contributions to, the field of colloid and interface science.
Event Reports
First Virtual SoftComp/EUSMI Annual Meeting Well Attended
Due to the Corona pandemic, the yearly Annual Meeting organized by SoftComp did not take place in 2020. In 2021 it came back as a purely online event which was very well attended by 219 participants from 22 countries, nearly double the number of participants of the last regular meeting in 2019. The first virtual SoftComp/EUSMI Annual Meeting 2021 offered more than 110 oral and 20 poster presentations, featuring the two topical sessions, "The Artificial Cell" and "Adaptive & Responsive Materials" as well as an industry session, amongst others.


Upcoming Events
SoftComp Annual Meeting 2022
The SoftComp Annual Meetings represent a forum for all SoftComp participants to discuss scientific work accomplished and the implementation of future goals. More information on the 2022 meeting will be announced here in due course:


International Soft Matter Conference 2022 (ISMC2022)
The International Soft Matter Conference (ISMC 2022) will be held from 19-23 September in Poznań, Poland. This will be the 6th triennial meeting of the soft matter-focused research community, organized internationally under the auspices of SoftComp. The ISMC 2022 is to be hosted by the NanoBioMedical Centre of the Adam Mickiewicz University, Poznań, and Poznań Congress Center. Early registration ends 15 May.


About SoftComp
SoftComp first emerged in 2004 as a Network of Excellence – a tool developed under the 6th Framework Programme of the European Commission – and continued as a self-sustaining Consortium in December 2009, when EU funding came to an end. SoftComp deals with the integration of European research, seeking to strengthen scientific and technological excellence in soft matter. In particular, it aims to establish a knowledge base for the intelligent design of functional and nanoscale soft matter composites, by overcoming the present fragmentation of this important field involved in the development of new materials at the interface of non-living and living matter, where the delicate principles of self-assembly in polymeric, surfactant and colloidal matter prevail. SoftComp has created an integrated team that is able to mobilize European potential in soft matter composite materials and thus disseminate excellence through extensive training and knowledge transfer schemes. Softcomp now consists of 39 research groups in 35 different institutions spread over 12 European countries.
Archive of all SoftComp newsletters (electronic and print): Newsletters